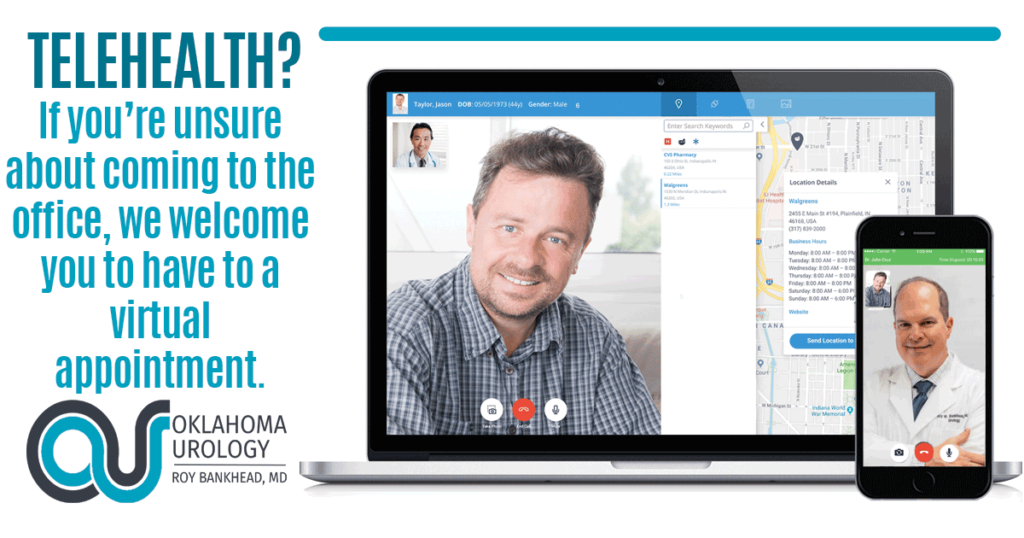 Urology Telemed Is Easy
Urology Telemed gives us a way to connect to our patients when travel is not advised. We realize that from time to time our patients will have a need for an appointment but may not be able to physically get to our clinic. Oklahoma is one of the states in the US that has parity laws, which means your insurance is required to reimburse a telemed appointment just as they would an in person visit. However, because insurance coverage varies from policy to policy, this is not a guarantee of coverage. Please check with your insurance – but as a general overview, telemed appointments are becoming more and more accepted.
The Benefits of TeleMed
Urology TeleMed allows health care professionals to evaluate, diagnose and treat patients at a distance using telecommunications technology. The approach has been through a striking evolution in the last decade and it is becoming an increasingly important part of the American healthcare infrastructure.
Using urology telemed as an alternative to in-person visits has a host of benefits for patients and providers alike. Patients enjoy:
Less time away from work
No travel expenses or time
Less interference with childcare responsibilities
Privacy
No exposure to other contagious patients
Easy scheduling
Can be done from remote locations
Common Questions
Do I need a computer for a virtual exam? No, exams can also be performed with facetime, or skype over the phone.
How will I pay my copay? Your doctor will direct you the the appropriate staff after the call to "checkout" just as you would during your office visit. At that time, you can also set up your next visit.
Is it covered by insurance? Generally speaking, YES. In Oklahoma, there are laws that require insurance to treat a urology telemed visit like an office visit, however you should speak with our office or your insurance prior to your appointment to verify benefits.
---
Schedule A TeleMed Appointment
Schedule a TeleMed appointment by calling (405) 942-8545